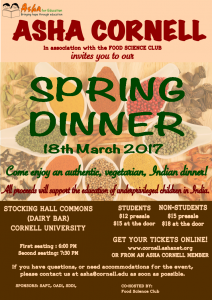 Asha Cornell presents our annual Spring Dinner!

Date: March 18, 2017
Seatings: 6PM, 7:30PM
Venue: Stocking Hall (Dairy Bar) , Cornell University  – map . For those who are driving, there is a parking lot across from Stocking Hall. Stocking Hall is accessible from Collegetown and Central Campus by TCAT Routes 51 Outbound (Saturday) and 92 Southbound (Saturday). You can also use the TCAT Trip Planner to figure out exactly where and when to get picked up!
Ticket Pricing: Students: $12 presale, $15 at the door. Non-students: $15 presale, $18 at the door.
We are SOLD OUT! Thanks everyone for buying tickets!