BTS Patha Bhavan
BTS, located in the Sundarbans region of West Bengal, is an elementary school that serves 201 students from families of fishermen and farmers. We fund them in order to help students who are also day laborers, provide money for lunches, and support computer literacy initiatives.
Vidyarambam
Vidyarambam has 329 centers in 22 districts across Tamil Nadu, of which Asha supports 50 pre-schools and 50 support centers. One of Vidyarambam's projects was running a mobile toy center to help children affected by natural disasters like the tsunami. We are funding Vidyarambam to help increase child literacy in the area.
Childlife Preserve Shishur Sevay
Shishur Sevay is an orphanage for thirteen handicapped young women in Kolkata, West Bengal. In addition to these girls' public chooling, Shishur Sevay provides supplemental classes. We fund Shishur Sevay in order to help these girls live a normal family life while also getting the most thorough education possible.
Digambarpur Angikar
Digambarpur, located in the South Parganas region of West Bengal, services 164 students from communities that are traditionally socially excluded. Many of these students have dropped out of or struggled to assimilate into the local school system. We fund them in order to support basic educational needs of students, especially those of young girls.
Pudiyador
Pudiyador is a school system consisting of three centers in Chennai, Tamil Nadu. The school services about 120 students who live in the local slums. It provides meals and after-school activities. Our funding supports mid-day meals and efforts to make education more hands-on.
Mumbai Mobile Crèches
MMC has 28 centers across Mumbai, and provides programs for the children of migrant workers ages 3-14. The programs are focused on developing children's education and health. Our funding goes toward increasing the number of trained teachers in the region and helping the organization become more sustainable.
Sabuj Sangha
Sabuj Sangha, also in the Sundarbans region of West Bengal, is a bilingual K-8 school (teaching English and Bengali) that services students who may have unstable family lives. We fund them to support first-generation schooling initiatives.
Jagriti Bal Vikas Samiti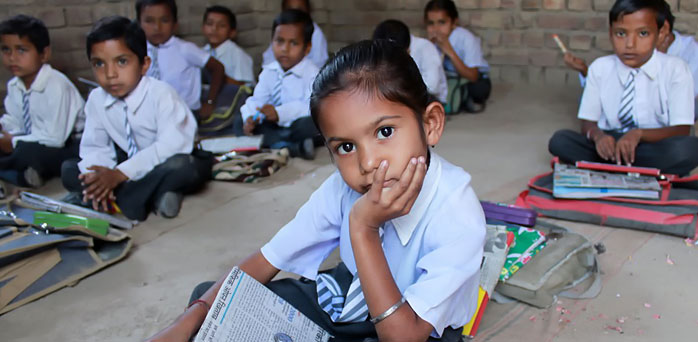 Located in Lodhar, Uttar Pradesh, Jagriti Bal Vikas Samiti offers primary through high school education. Its 300+ students are mostly the children of migrant workers who live in nearby villages. Our funding goes toward their computer literacy programs, library, and science labs, among other things.
Mandra Lions Club
MLC, located in the rural Sundarbans area of West Bengal, provides primary school education for 180 students, mainly those from local tribes. Additionally, they hold summer camps and spearhead public health initiatives. We fund them in order to increase children's access to basic primary education.